Prof. Amrita Dhiman ( Assistant Professor )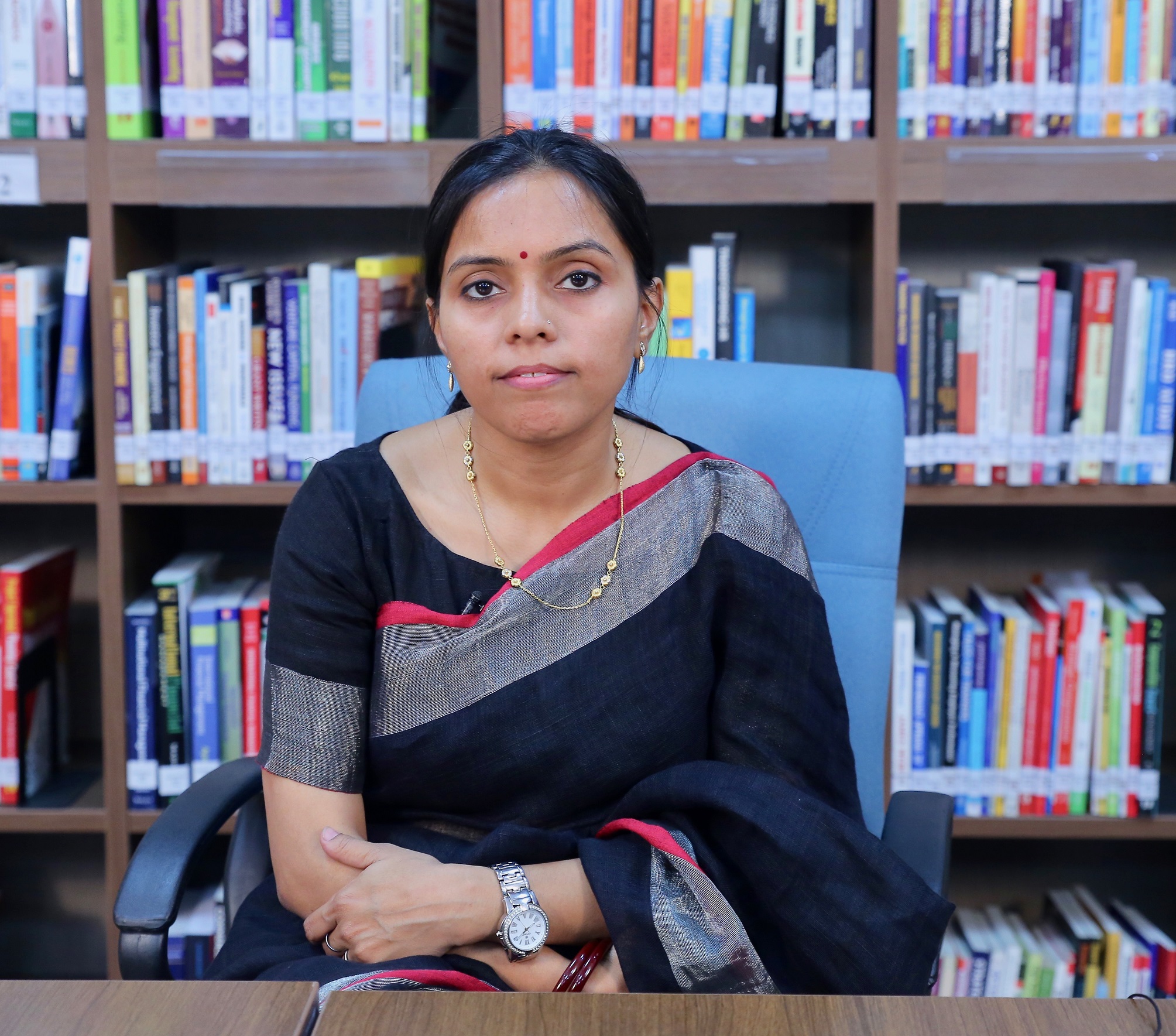 Academics
---
Prof. Amrita Dhiman hold a Bachelor degree in Agriculture from G. B. Pant University of Agriculture & Technology, Pantnagar and PGDM with specialization in Agri Business Management from VAMNICOM, Pune. She has been awarded Chancellor's Gold Medal for being the all-round best graduating student of GBPAUT. She is also a recipient of Gold Medal for being topper of her PGDM batch at VAMNICOM. She brings with her an extensive field experience and understanding of working with corporates to government institutions including district administration for more than 7 years. She started her career with a field job of Marketing & Recovery officer with State bank of India. Post masters through campus placement she joined Karvy Comtrade Ltd. at Hyderabad and established herself as a Research Analyst for agri commodities. While working with Mahindra & Mahindra Limited at Mumbai, she has been involved in strategic planning, implementation, corporate communication, marketing and branding activities. Prior to joining DMI, she has been working with District Administration in Gaya as a Prime Minister's Rural Development Fellow (PMRDF). As PMRDF she has functional in a lot of schemes like MGNREGA, IAY, SBM, PMAGY, NSAP etc. The most explicit role played is of documenting the initiatives, taken up in the district for improved governance and outreach. Different articles written by her about the initiatives have also been published in government newsletters/websites like "Kaam Mango Abhiyan" in Samriddhi newsletter of RDD. A number of articles written by her has been published in Invest & Harvest & The Finapolis.
Area of Interest
---
Farm and Off-Farm Livelihoods, Agri-Business Management, Initiatives to increase the outreach of government schemes, Convergence, e-governance and Management of Collective Enterprises.
Educational Qualification
---
Post-Graduation : Agri Business Management - VAMNICOM - 2009
Graduation          : Agriculture - GBPUA&T, Pantnagar- 2006
Faculty Qualification
---
Post-Graduation : Agri Business Management - VAMNICOM - 2009
Graduation          : Agriculture - GBPUA&T, Pantnagar- 2006
Conference Attended
---
Paper "Kaam Mango Abhiyan in convergence with Jeevika/NRLM – A Case Study from Gaya district" presented at National Seminar on "Convergence in MGNREGA" at SIRD, Ranchi 24-25 March, 2017 and Published by SIRD, Ranchi
Paper "Peoples' Power and Processes in ushering changes: Cases from Bihar" presented at 1st symposium on Transition Strategies for Sustainable Community Systems: Design & Systems Perspectives 18-20 Jan. 2017
Paper "Livelihood Enhancement through Market Integration: Experience of a Producer Company in    Bihar" presented at 5th NSoRM in Bhubaneswar 18-19 Nov., 2016
Faculty Care Center Association
---
CARE- Leadership and Governance
Faculty Research Interest
---
Agri-Business, Public Administration
Faculty Consultancy Project's
---
Research Studies:
Identify and address causes for low penetration of MGNREGA in Bihar for Rural Development Department, Govt. of Bihar
Assessment of impact of Total Prohibition on Sale and Consumption of Liquor on the condition of women and girls in rural Bihar for Gender Resource Centre, Women Development Corporation, Govt. of Bihar
Faculty Training Programs
---
Designed and Delivered Competency Enhancement Programme (CEP) for Newly Elected Mukhiyas in Bihar
Designed and Delivered Competency Enhancement Programme on "Motivation and Leadership Development" for District Project Managers of JEEViKA and Other SRLMs
Designed and Delivered Competency Enhancement Programme (CEP) Under CM SC/ST Entrepreneurship Scheme
Contributed in developing an illustrative comic book for Mukhiyas titled "Mukhiya Didi"